'Tis the season - the most wonderful time of the year! And yes, I truly do believe that! I absolutely adore the Christmas season!!! And just because this year will be ..uh..different, doesn't change the fact that it is my most favorite time of the entire year!
Wayyyy back when I was in school, we did a Christmas play called "A Simple Kind of Christmas". Part of the title song went like this:
Give me a simple kind of Christmas
Take away the worry and the care.
Give me a simple kind of Christmas
Take away the hurry everywhere.
So I can linger with the family
gathered 'round the piano as we sing the Savior's praise.
Give me a simple kind of Christmas
So my blessed Lord can have first place.
This year, we're on a forced simplification kinda Christmas. ~smile~ It's being embraced to varying degrees - from, "this is kinda fun!" to "this is going to be the worst Christmas ever" (names withheld to protect the guilty), but it's a learning experience for all of us. It's odd not to be decorating from stem to stern, making lists and checking them twice, planning for our open house or deciding where to spend Christmas day. But the season will be what we make of it.
Anyone who knows me knows how strongly I dislike artificial Christmas trees. Half the fun of having a tree is going to a tree farm in the freshly fallen snow, smelling the trees, picking out just the right one, cutting it down and bringing it home. Ya, I'm a tree snob. Sorry :-) Sure, artificial trees have their place. Of the seven trees we had in our home last year (of varying sizes), only one was real but that took main stage and it was a beauty! Not this year. Oh, much to my dismay, the wretched 5' artificial tree that used to get tucked into the corner of our back hallway to greet visitors is going to be "the" tree this year. Blech.
Being the good mommy that I am (LOL), I haven't actually
said
all that out loud. The girls have made
homemade salt dough ornaments
and had a lot of fun doing so! I have no idea where our mountains of ornaments and decorations are packed neither am I going to go looking.
And even though it wasn't our traditional evening of decorating, there were still smiles to be found.
I have to admit, the cat is a little confused though...He's wondering why there's no water to drink and why his little nibble of the needles wasn't so tasty.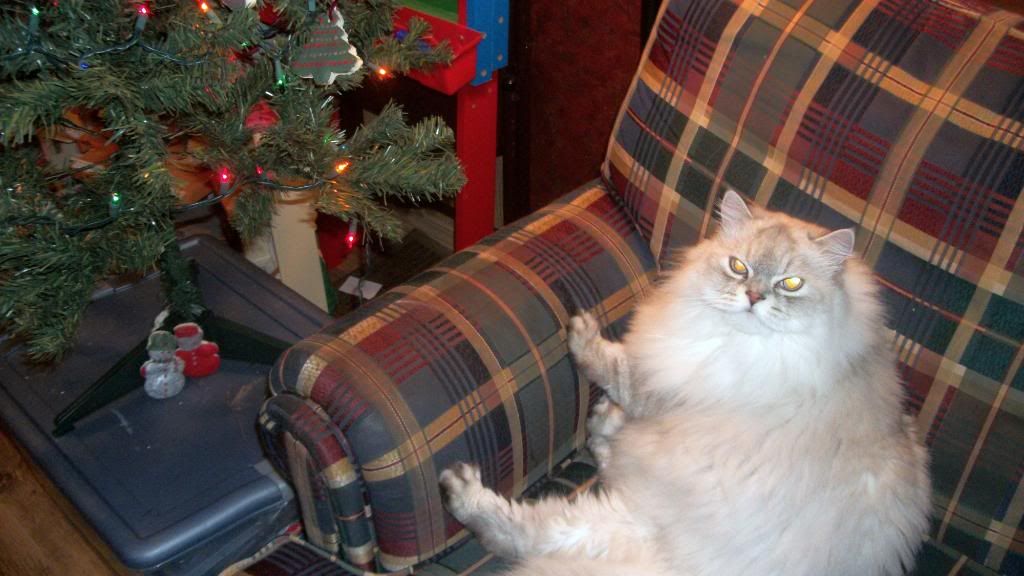 So, popcorn is popping, hot chocolate is ready and the Christmas movie is about to begin. We truly do have a lot to be thankful for, even in unsettled times such as these.
Have a wonderful evening!
© Adorning Grace 2011