Sometimes your pathway
May prove uncertainties lie.
Circumstances seem to tell you
That there's no reason to try.
Chorus
Walk on, walk on for Jesus.
Walk on in His name.
Lifting high the blood-stained banner.
Walk on in His name.
Walk on through the shadows
Where doubts and fears reside
He will crown your faith with victr'y
If on Him you will abide.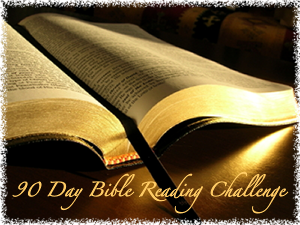 If you have taken part in our previous "Through the Bible" challenges, you know what a true blessing they can be! Going through the entire Bible in 90 short days is certainly not for the faint of heart. Perhaps you're wondering why I picked this time of year to do so? Simply put, I need it. I need to immerse myself in the words of my Savior. I need my focus to be shifted from my present circumstances and on to the One who controls the circumstances.
Truth be told, I do not remember another time in my entire life when I have felt so depressed low discouraged, and if it bothers you to hear me say that, than perhaps it will bother you enough to pray for me and for my family. It is a time of great change, uncertainty and trust that God knows what He is doing. I have never felt so completely and utterly out of control of every aspect of my life as I do right now. And for someone who is a control freak highly organized and scheduled, it is driving me crazy!
The only thing that I know to do is to throw myself at Jesus' feet and seek His face. So, will you join me in this challenge? You can print off your 90 days reading schedule
HERE .
We'll begin on Monday, October 17, 2011 and will update on our progress weekly. If you feel that you can't take the challenge right now, would you commit to asking the Lord help me to finish it?
May the Lord bless you as you seek His face.
© Adorning Grace 2011